Kyela is one of the seven districts of Mbeya Region, Tanzania. It is bordered to the north by Rungwe District, to the northeast by Njombe Region, to the southeast by Lake Nyasa, to the south by Malawi and to the west by Ileje District.
According to the 2002 Tanzania National Census, the population of the Kyela District was 174,470.[1]
The District Commissioner of the Kyela District is E. Mashimba.[2]
Job Opportunities at Kyela District Deadline 27th November 2019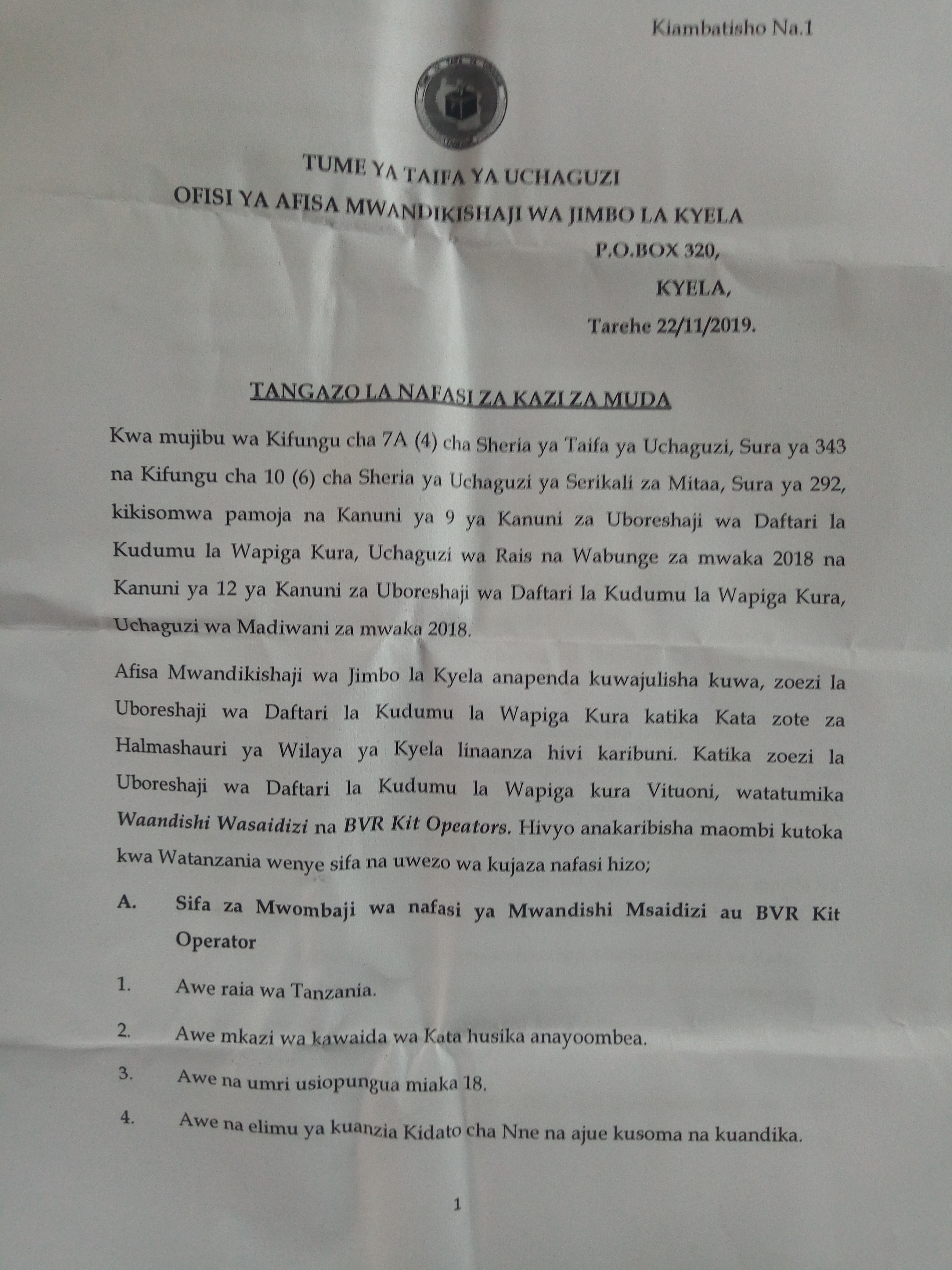 Kwako wewe mwajiriwa unashauliwa kupeleka barua yako katika Ofisi ya Masijara ya Mkurugenzi Mtendaji Kyela ili mwajiri wako aisaini barua yako.
Kwa asie mtumishi peleka barua yaka kwa mtendaji Kata ili ikasainiwe. 
The production of rice in Kyela is mainly favored by its geographical location and weather. Rivers such as Mbaka, Kiwira, Lufilyo and Songwe flowing into Lake Malawi all cross through Kyela. This makes the district constantly have wet land that is suitable for rice production. Apart from rice, Kyela also produces other crops like bananas, cashew nuts, beans, cocoa and watermelon.
FOR MORE LATEST JOB NEWS 2019 CLICK HERE
READ THIS:
1.All Past Papers From Standard Seven To Form Six
2.How to Answer the 31 Most Common Interview Questions
3.Steps To Open Ajiraportal Account
4.Sample Of Job Application Letter
5.Join Our WhatsApp Groups to Receive Latest Jobs Updates on Your Phone
6. 10 Smart Business Ideas for Youth in Tanzania
7.The Best Colors to Wear to a Job Interview
8.Curriculum Vitae (CV) Samples and Writing Tips
9.2000+Jobs Vacancies From Government and Private sectors